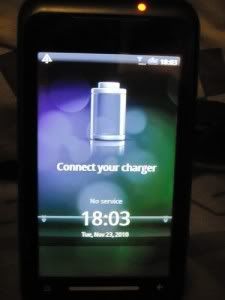 Remember the WinMo-powered Toshiba TG01? Me neither, but if you can dig deep in the memory crevices of your brain, it was the first production phone to ever use Qualcomm's Snapdragon silicon. With a 4.1 inch screen and a Snapdragon processor clocked at 1Ghz, it was the phone of its time, with specs previously unheard of. Unfortunately, the TG01 ran WinMo 6.5, which soon became outdated and stagnant, and the TG01 faded away into the back of users' closets.
Today the Toshiba TG01 can be dug out and have life breathed back into it thanks to XDA member Markinus, who has modded the TG01 to run Android! Right now, the first build isn't usable for a daily driver, but can be downloaded from the XDA thread just in case you have to be up on the latest and greatest.
So far, the working features and progress made by Markinus are as follows:
Edit6:
Added touchscreen buttons
Added first Test Build! Extract to sd and run haret! Look to Post 2.

Edit5:
Touchscreen is working now. I had to recalculate the calibration values. Later we have to look to better calib values, maybe a calib app for users.

Edit4:
We have now a official mach id 3197. This have to be changed in the default.txt for haret.

Edit3:
So some new stuff is checked in:
– panelfile with basic support for mdp and lcdc
– sd card works
– usb works
– rpc, pcom, works
So if you have a Toshiba TG01 and want to run the world's latest and greatest mobile operating system, Android, make sure to hit up the source link and let us know how it went in the comments!
Source: XDA-Developers via Engadget